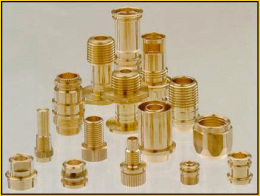 JaiRam Traders exports various forms of brass parts. Almost all types of turned brass accessories are available on order basis. If you want to create a custom component, just send us a sample or give us the blue print and we will take are of the rest.
Some of the frequently shipped brass items are:
Brass Fasteners

Brass Sanitary Fittings

Brass cable Accessories

Brass Electric Parts

Building Hardware

Precision turned auto parts

Brass anchors

Brass nuts
Brass molding inserts

Brass wood screws

Energy meter terminals

Basically we can get anything and everything required by you.