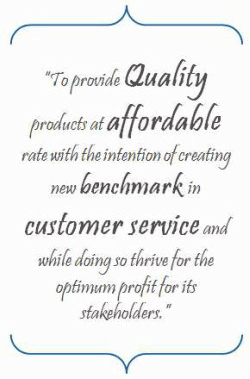 "To provide quality products at affordable rate with the intention of creating new benchmark in customer service and while doing so thrive for optimum profit for its stake holders." This is the motto at the very center of JaiRam Traders' import and export business.

The group behind JaiRam Traders is not new in business world and trading. The family's first business venture as a manufacturer was started (and still operates) in 1978. After which they forward integrated towards trading of building materials in 1980. In 2002, with all its knowledge in construction and ceramic industry, the group started another manufacturing unit, now of ceramic products. Now with three decades of experience in business, the group is ready to capture the market in international arena with JaiRam Traders.

Right from its beginning the Group is passionate about QUALITY products. For the same reason, all the products exported by JaiRam Traders are manufactured in state-of-the-art manufacturing facilities with stringent quality control process. Moreover, all of the manufacturing facilities which are sold by JaiRam Traders are owned and operated by the family or their family friends. This is the secret recipe of our best in class quality in all products that we supply to customers at competitive rates.

JaiRam stands for innovation, it stands for quality, it stands for affordable product and at the same time it stands by all its promise made to its customers because it also stands for uncompromisable business ethics.